The Sisters of Our Lady of Sion are giving aid to those most in need in the communities we serve in the Philippines, to help them get through lockdown during the coronavirus crisis.
Some donations have gone towards assisting people in rural neighbourhoods, such as Kiloloron and Dungon. Others have been dispensed by the Kaibigan Foundation and Dambana (a local ecumenical group) to urban poor communities in Metropolitan Manila and Quezon City. All those who received the aid expressed their deep gratitude.
Councillors and volunteers from Dungon contributed to the effort by locating the most disadvantaged families, and helping to pack and distribute the goods to 80 homes.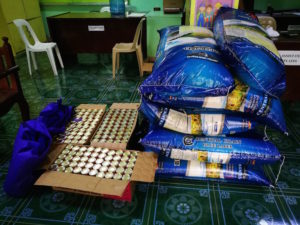 During the last week of March, the Sisters based in Real donated 10 sacks of rice and 300 cans of sardines in Kiloloron. These were given to the most vulnerable 100 homes in the village. Donations have also gone to help 50 Katatubo indigenous families in Lubayat, Real, and further assistance is planned in the villages of Lubayat and General Nakar.
"We can't do much because of lockdown," commented one Sister, "but we can surely offer prayers and share with them what we have."