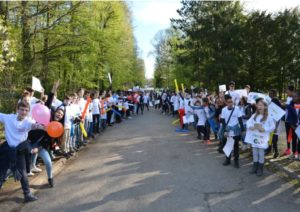 From 5 to 4 April 2018 in Paris, Adriana, Marie Lise and Mary had the joy of participating in the fourth international meeting of the Schools of Notre Dame of Sion. Sr. Patricia Watson presented her book "Spaces for Dialogue" which was the theme of the meeting.
We enjoyed Sr. Dominique de la Maisonneuve's lecture on dialogue in the Bible and Mary Reaburn presentation as well. The theme chosen by Sr. Victorine for her intervention was "a life to look for in dialogue". Many interesting conferences throughout the day, exchanges between participants, and projects of inter-institutional meetings … The Market Place allowed each institution to show how the book write by Sr Patricia was studied and how the dialogue is lived in their establishment.
We visited the college/high school of Paris: warm welcome by the director, representatives of the staff, and students who made us visits the premises.
A performance on Sr Emmanuelle's life by a French artist, Marie Christine Barrault ended the evening.
The arrival at the college / high school of Evry is unforgettable …
imagine 1,500 students along the wide path, applauding, welcoming … it was impressive and moving! A highlight during this day was the visit to the completely renovated cemetery.
Then the Sisters of Solitude welcomed the group: meeting with the contemplative Sisters, visit of the Chamber of the memories, the exhibition of the paintings of Sister Marie François Lin. A Mass then brought us all together in their chapel.
Back in college we were able to attend a beautiful Klezmer music concert with the band Yankele. The day ended with a very nice evening where good humor and joy were at the rendezvous.
There would be many things to share, such as the Seine River boat trip, the visit of the Jewish quarter, a Mass at N.D of Paris …