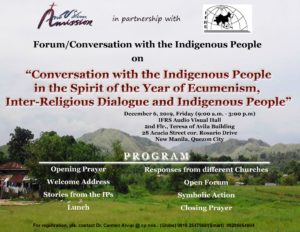 The ANAWIM MISSION, participated by the Sion Philippines community, is hosting a day-long conversation with indigenous people in the run-up to the year of Ecumenism, Interreligious Dialogue and Indigenous Peoples declared for 2020 by the Catholic Bishops' Conference of the Philippines (CBCP).
This is in keeping with the CBCP's aim "to work for unity and harmony while respecting diversity and to recognize peoples' identities, spiritualities and ancestral domain."
The Conversation with the Indigenous People in the spirit of the Year of Ecumenism, Inter-religious Dialogue and Indigenous People will take place on Friday 6 December 2019 from 9.00 am to 3.00 pm at the Institute of Formation and Religious Studies (IFRS) in New Manila, Quezon City.
Anyone who wishes to attend should write to anawimmission@yahoo.com.